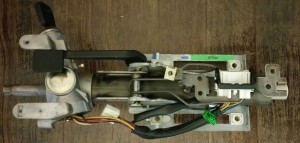 The steering columns in BA to BF (2002 – 2008) falcons and TX/SX and SY Territories (2004-2008) are made by Bosch for Ford and they suffer from a  couple of different failures.
Either the Bakelite backplate will come off and spray ball bearings and springs out, or alternatively the metal tab that the starter return spring presses against snaps off and the ignition key will stay in the start position as a result.  The later results in a car that starts fine,  but will have auxiliary devices powered until you manually turn the key back to the ignition position.
Because these columns are one part with one part number, Ford and most repair centers will only replace the column as a whole with a new one. The downside of this is the price for a new column fitted ranges from 1200 up to 2400+ dollars depending on things like key barrels and keys that need to be changed, PATS security resets etc.
The news isn't all bad though,  I found myself in the position of owning a BA Falcon with a faulty column and a potentially expensive bill ahead of me.   Worse because my car is a BA and they don't make BA columns anymore so I was going to need a FG column fitted and new FG style locks and keys fitted along with PATS resets to make it all work together.  My bill was going to be well over 2000 dollars which I found to be quite unacceptable.  I'd already spent many years installing car alarms onto ignition circuits for various companies, so I have a very strong understanding of how the systems work together.   I decided to see what I could do to save myself some money.  I was able to buy a big heap of old broken columns very cheaply and I undertook to destroy them in a variety of ways so that I might familiarise myself with the entire internal structure of the columns.     I then worked out the best way of permanently fixing them and started testing the solutions in my own car.  My first repaired column sat on my lap for 2 nights while I simulated 500 days of twice a day car starts, after which it was installed in my car and driven for most of a year before I offered to do any others.   To this day that column still works fine and I sold it as second hard to somebody when I upgraded my car to FG falcon ignition system and steering column.  (for much less than the 2400 dollars a dealer quoted me)
I've done a great many repairs now as it's become a favorite hobby of mine and I'm happy to say that not a single one has come back again.   I've a habit of over-engineering my repairs so the spring stop that was 1/2 a millimeter thick and die cast alloy is now 1.5mm thick and made of steel.    I also modify the back plate and the spring housing to make sure the mechanism moves smoothly and never comes out again.  Since none of have ever come back, I offer an 18 month warranty on any column I've replaced the spring stop on.
The columns fit in an Australia Post, $25 express bag and as such they can be sent Australia wide cheaply and fast.  The service is exchange though so I expect the old one back to use for parts.
I also offer a couple of rescue leads that will allow you to start your car and bring it to me or take it home if the back comes out of the column and the car won't start and you get stuck somewhere.  I don't charge for the leads, but since a guy called Jared kept my last one, I now charge a 50 dollar deposit before I'll loan you one.
If the problem is just the back coming off your Falcon or Territory ignition I can loan you a lead to get to me, and I can repair it in car for $150.   If the spring stop has snapped entirely, the steering  column and ignition loom needs to be removed and repaired and that takes somewhat longer.   The cost of a replacement column with a refurbished spring stop and reshaped back with warranty for either Ford Falcon BA / BF  or TX / SX / SY Territory  is $299 exchange.  I can put it in for an additional $70 if you are close enough to bring the vehicle over.
Keep in mind that I have a full time job (and 3 young children) already and the columns are just something I got into to help out people who would otherwise get slugged big dollars by dealers and some  unscrupulous types that are out there.   As a hobby the hours must work around my already busy life. So most mornings up to 10-10.30am I can do column work and Saturdays usually also.   I keep several already refurbished columns to provide an instant changeover service if required also.
regards
Frank Hauptle
0404 787 072
http://fordstuff.bits4cars.net/
Visit my facebook page and say nice things (or not)
The current Gumtree ads.
http://www.gumtree.com.au/s-ad/east-victoria-park/other-parts-accessories/repair-your-territory-or-falcon-ba-bf-ignition-column-cheap/1071347839
http://www.gumtree.com.au/s-ad/carlisle/other-parts-accessories/ba-bf-falcon-ignition-steering-columns-repaired-with-12m-warranty/1062697503
http://www.gumtree.com.au/s-ad/carlisle/other-parts-accessories/ba-steering-column-very-good-condition-ignition-/1064044291
http://www.gumtree.com.au/s-ad/carlisle/other-parts-accessories/bf-falcon-steering-column-ignition-great-condition/1064682721
http://www.gumtree.com.au/s-ad/carlisle/other-parts-accessories/sy-sx-territory-steering-column-ignition-repair-with-warranty-/1062292804